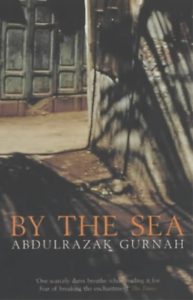 I've been reading quite a lot lately and so I thought I would do a quick catch-up post with my most recent titles. They have been a mixed bag of good and broccoli books (ones that may not have tasted that great when I was reading them but I'm glad to have them done), so let's continue…
The biggest broccoli book would have to be "By the Sea" by Abdulrazak Gurnah. A fiction title that was released to acclaim back in 2002, I'm sure that I came across this read via one of the many blogs I travel to and I was expecting good things from it. However, the prose came across as turgid and deliberately obtuse and after struggling mightily with it for a good two-thirds, I finally accepted defeat, realized that I was doing procrastination-reading each time I meant to pick it up and closed its pages with relief. :-}
At the same time as Gurnah's book, I was also reading (and sometimes skimming) a volume of The Best American Science Writing (edited by Atul Gwande) and published in 2006. I hadn't thought that sci writing published 14 years would be that historical in terms of the topics it covered, but despite some of the articles being pretty interesting, there were some that were obviously (and not surprisingly) dated so that was a mixed bag as well. Notable articles included one about some researchers who study the giant redwood trees and a fascinating one about death (I know – right?).
Both reads are off the TBR pile – go me – and now I'm reading the 1931 title of "The Country Child" by Alison Uttley. I'm not sure if it's autobiographical (a la "Cider with Rosie" et al.) but I'll find out before I do a review post. It's charmingly pleasant and easy to read and might be a juvenile title. It's just right after soldiering through the science writing and the sea books.
After these reads, I'm not sure what the next title(s) will be but you know – half the fun is choosing them!