As the second book of the fiction trilogy that begins with Toni Morrison's Beloved, this seems to be fairly straightforward: husband is long-time married to wife, but then has an affair with 18-year old girl. He gets jealous of her spending time with boys of her own age so he shoots her (his mistress). She dies. Wife goes to funeral of said girl and tries to stab corpse's face. And then it takes off from there…
Obviously, there is a lot more to the story than that, and it's a lot more complicated than that simple A-B-C-D progression would seem to suggest. It's an urban novel set in 1920's Harlem, right in the Harlem Renaissance period when the African-American art world really exploded, and the plot seems to reflect this as it darts about, like the notes from a trumpet during a jazz concert (ref: title). The non-linear plot lines veers rapidly from thought to thought (although it's never confirmed whose thoughts they actually are), and the characters and their individual lives overlap all the time so that the narrative is complex and opaque.
As Morrison writes in the forward:
The challenge was to take [the book] beyond the rules. I didn't want simply a musical background, or decorative references to it. I wanted the work to be a manifestation of the music's intellect, sensuality, anarchy; its history, its range, and its modernity.
This novel also harkens back to the Great Migration when thousands of African-American families moved from the southern states to the more northerly ones based on the hopes for better jobs, better housing, and a better life.
Indeed, both Violet and Joe have moved to NYC as part of that historic move, and in part to live with others who reflect them and their economic goals:
"Even if the room they rented was smaller than the heifer's stall and darker than a morning privy, they stayed to look at their number, hear themselves in an audience, feel themselves moving down the street among hundreds of others who moved the way they did, and who, when they spoke, regardless of accent, treated language like the same intricate, malleable toy designed for their play…"
The story is told through the various perspectives of different people who have all been impacted by the imploding marriage, and interestingly enough (for me at least), I learned that some critics have likened this multiple-perspective technique to the call-and-response of jazz music (where instruments echo what was previously played by other instruments, but in a different way), and that also that same call-and-response structure echoes African-American history itself (e.g., some of the field work songs used during slavery times were in that sort of set up).
It's also reflected in how some music is played in a lot of African-American churches where the pastor calls out for a response from the congregation ("Can I get an Amen?"). Wiki also reports that this polyphony (all the multiple lines of music playing at the same time) is also a characteristic of African tribal music, and so there is this long and fascinating line of thought that emerges. (In fact, there are all kinds of rabbit holes that you can disappear down once you start researching it a bit.)
So it's a complex read, structurally speaking, and yet despite that, it's not really that challenging to keep everything and everyone straight so long as you're paying attention. Having said that, it's not a book that I recommend that you pick up and put down during random moments, but that's not a criticism of the author or her work. It's that, just as you don't often hear linear jazz music and it can be tough to figure out the pattern in the music (if there is one), this is not a plot that can be followed easily without effort. But it's worth it. The writing is excellent, and the deeper that I dove (dived?) into the book and into the lives of these intermeshed characters, the more I kept thinking about them even when I wasn't actually reading it.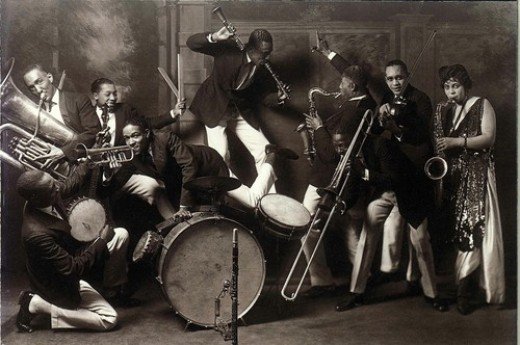 Morrison's characters are stuck with very hard lives in a world that is not caring in the slightest, and yet despite that, they put their all into their very busy working and living lives right where they are, both historically and geographically. The husband and wife in question, Joe and Violet (later nicknamed Violent) Trace lead a quiet domesticated life at the start of this novel.
It's 1926, WWI has been over for a few years, and the world seems to have taken its breath and caught up with itself with a fairly rosy outlook in general. Joe is working as a traveling salesman selling women's cosmetics from a suitcase while Violet is an unlicensed beautician working off the books with the more wealthy neighbors; neither of them seem to be particularly remarkable in that their lives are fairly typical without a lot of drama.
However, in the middle of this domestic balance, Joe decides to have an affair with a young woman, Dorcas, a teenager who lives in the neighborhood. However, trouble erupts when he catches Dorcas dancing with male friends at a private party, and he goes off the rails with jealousy and shoots her. Naturally, wife Violet hears about it – she's friends with the family and it's a close neighborhood – and when she does, things go way off the rails a bit for her as well.
For various reasons (and it's different reasons for both of them), the couple keep a photo of the young dead girl on the mantelpiece in their walk-up apartment which doesn't really help things, as you can probably well imagine. Violet has been hurt and humiliated by the affair, and knows that Joe is mourning his now-dead girlfriend with a strength of emotion that she believes he would not feel for her if she died, and so each character is hurting in his or her own way at his or her own pace. Few of her friends understand this married relationship, and it's all a bit fraught. Money's a big worry as well, which doesn't help things.
So this is a tightly wound read set in Harlem, a place rife with racism and poverty throughout the neighborhood. You'd think that the shooting (which comes early in the novel) would be explosive enough, and yet, for the remainder of the novel, you're just waiting for something else to happen. There's a tension there, and Morrison does a great job of winding the springs for you, the reader. When's the hammer going to drop? And what will it be?
If you've ever read any of Morrison's other works (for example, I've read Sula, Beloved, and pre-blog, The Bluest Eye), you'll know to expect expert original writing that doesn't necessarily settle into the traditional well-worn grooves of most twentieth century books. This is not anything to hold you back from reading it, and actually, I think that the writing (and the wide-ranging freedom with the characters) is what keeps this book as such a strong reading experience.
I loved this read, and finished it quickly after only a few days. (Always a good sign of a strong read.) Not that easy, but so worth the effort. Highly recommend this.